Popular Hitchhiker Videos
How often do you see a hot girl walking down the street and get the urge to pull over and offer her a ride? Probably at least once a day, but the most you do is honk and keep driving while pawing at the chubby in your pants. Well Tori, Victoria and Vianey think it's time you start acting on your urges and offer sexy foot soldiers a ride home. Girls can be very appreciative of favors, and this trio certainly is. Vianey is a pussy-hungry Latina, Tori is a cock-sucking fiend and busty Victoria just straight up loves to fuck. Together, they make one hell of a team. When they start undressing and eating each other out it's like a fantasy come true! It's a sinful buffet of flesh with more than enough servings of cock-stuffed pussies and tongue-to-clit action.
More Teens »
Another classic case of boyfriend cheats on girl and girl fucks for revenge. After hearing the bad news, Madison gets picked up on the side of the road by a guy who takes her back to his place. She takes a few moments for herself in a bedroom and shows us her tight body and tiny, perky tits. Guess she's not too upset about the break up with her boyfriend, because within moments she's stroking her shaved pussy and kneading those little tits. The dude hears her moans and comes in to help her out. He starts off with a finger in her pussy and then splits her slit with his schlong. Madison loves it as she bounces up and down on his dick like it's a pogostick. She's moaning again, but this time because there's a cock drilling her pussy. What cheating boyfriend?
More Teens »
Things that Jayden thinks are lame: school, schoolwork, studying and her friend who won't pick her up when she's skipping. Things that Jayden doesn't think are lame: being naked, blow jobs, cock and fucking. Unable to take the utter suckiness of school, Jayden ditches class and needs to find a ride fast before she gets caught. Dressed the way she is, that's not much of a problem. Some dude picks her up and it's not long till this blonde hottie is doing all the fun things on her 'Not Lame' list. She takes out her little tits and lathers up this guy's dick with her wet mouth. Then it's her turn to get some lovin'. Jayden hops on top of his cock and rides away, shaking her ass and talking dirty. This bad girl gets her pussy spanked and learns her lesson after getting pounded and creamed. And that is why sex is always better than school!
More Teens »
Sometimes being a nice guy does pay off. This dude didn't have to stop and pick Jewel up. He didn't have to offer her a ride to Miami. But he did. The thing is, Jewel is nice, too. She wasn't going to take advantage of him, she wanted to pay him back for being so nice. She does that by letting him suck on her perky titties and then slurping up his hard bone. This guy is in heaven as his dick hits the back of Jewel's throat. And Jewel is in heaven when he gives her a hot beef injection right in her pussy. See, it's nice to be nice!
More Teens »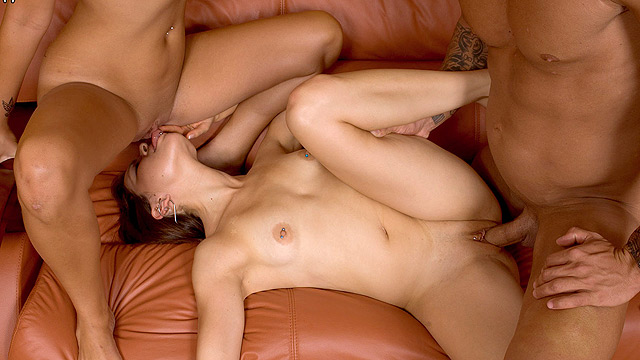 Emilee and Angelina's favorite summer day activity is eating ice cream off of each other's bodies. You can tell by the way they expertly lick each other's nipples that it's something they do often. They live together and share the same bed and have spent many nights burying their tongues deep in each other's twats. And while they enjoy getting each other off, they're flexible with their sex lives and don't mind adding a cock to the equation. When that happens, Emilee and Angelina give the guy a show as they both lick his cock at the same time before they take turns fucking him. See how they get down with each other and another guy in this hot scene. And let this serve as a lesson to always carry a video camera with you, because you never know when two hot sluts will fuck you in a threeway.
More Teens »