How often do you see a hot girl walking down the street and get the urge to pull over and offer her a ride? Probably at least once a day, but the most you do is honk and keep driving while pawing at the chubby in your pants. Well Tori, Victoria and Vianey think it's time you start acting on your urges and offer sexy foot soldiers a ride home. Girls can be very appreciative of favors, and this trio certainly is. Vianey is a pussy-hungry Latina, Tori is a cock-sucking fiend and busty Victoria just straight up loves to fuck. Together, they make one hell of a team. When they start undressing and eating each other out it's like a fantasy come true! It's a sinful buffet of flesh with more than enough servings of cock-stuffed pussies and tongue-to-clit action.
More Teens »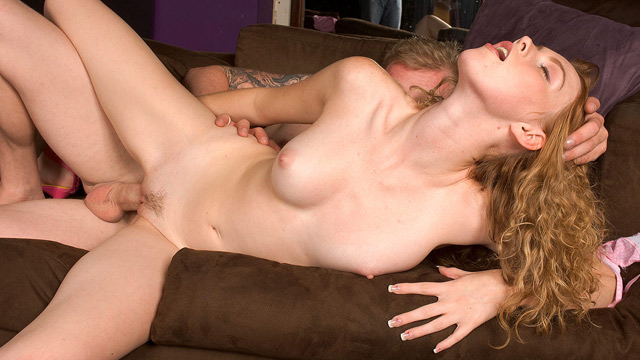 When it comes to nightlife and high-end clubs, you've got to put out to get in. Marie knows this, and that's why she wets her panties when a hotshot bartender picks her up. She knows this is her one and only chance to suck and fuck her way to VIP status. He brings her behind the scenes before the big party and she makes sure to show him exactly why she deserves to go straight past the velvet ropes. First she lubes his tool with her mouth then bends over and takes it like a good girl. Her body is tight, her little boobies jiggle and she's got a high-pitched squeak that escapes her lips with every cock-stroke into her pussy. It makes the bartender want to fuck her harder and harder. It's not even party time yet and Marie is seeing stars because of how hard she's cumming. And judging by the huge load sprayed on her face, she definitely earned her VIP pass.
More Teens »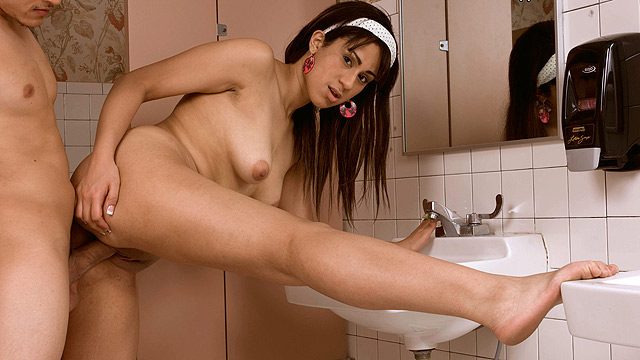 The best way to relieve anger is to fuck it out of your system. When two horny guys happen across Missy in a parking lot, she's pissed as hell that her boyfriend left her stranded. So she figures, what better way to get back at him than fucking some other cock? Not only will she be getting even, but she also gets to enjoy new dick! The thought makes her so excited that she plans to fuck in a (notably clean) gas station bathroom. Once there, she lays all her cards on the table and enthusiastically dives for this guy's big dick. It's a nice change from her boyfriend's small cock. Fucking that little cock for so long left her extra hungry for something more, and it shows as she expertly swallows this newfound schlong. Her boyfriend's little wiener also preserved the tightness of her twat, and she can feel every inch of this new cock stretching her insides oh so good. Maybe Missy's boyfriend should piss her off more often!
More Teens »
What's the best way for a girl to get a ride if she's stranded? Wear a white, see-through shirt with no bra. It's also a really good way to get laid, too. Maybe that's what Remi had in mind when she decided to go braless for the day. She looks like the horny type who likes it when guys stare at her perky, little tits through her shirt. And she's more than happy to strip the shirt off and show her bare titties to the guy who gives her a ride home. It is a hot day, after all. The less clothes, the better, right? Although all the fucking Remi ends up doing just makes things hotter. She drips all over the place-sweat from her pores and cream from her pussy. You can tell by the way she squeals and hyperventilates that she's never been porked like this before. So what lesson should teen girls take home from this video clip? For good dick, leave the bra at home.
More Teens »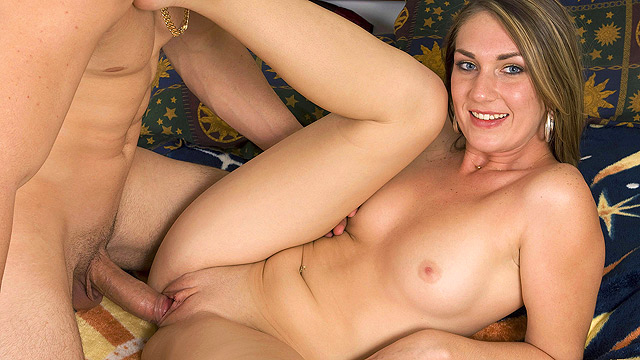 While looking for a girl to join them on a clubbing excursion, our two cruisers bump into Mia. She isn't really a clubbing type of girl, but she is a cocking type of girl. Who needs to pop bottles when you can pop that pussy? Mia is down to get picked up, screwed and sprayed. She plays it shy at first, but once you get back to her place you'll soon find out that it's just an act. Mia has no problems taking off her clothes and letting you finger her pussy so you know how tight her hole is. Try not to blow your load while she blows you with gobs of spit dripping out of her mouth. You wouldn't want to miss her bouncing on your pogo stick and grinding her hips left and right. Mia's a freaky one and you'll want to save that load for her pretty face after a marathon fucking.
More Teens »