Latest Hitchhiker Videos (Page 3)
Sometimes being a nice guy does pay off. This dude didn't have to stop and pick Jewel up. He didn't have to offer her a ride to Miami. But he did. The thing is, Jewel is nice, too. She wasn't going to take advantage of him, she wanted to pay him back for being so nice. She does that by letting him suck on her perky titties and then slurping up his hard bone. This guy is in heaven as his dick hits the back of Jewel's throat. And Jewel is in heaven when he gives her a hot beef injection right in her pussy. See, it's nice to be nice!
More Teens »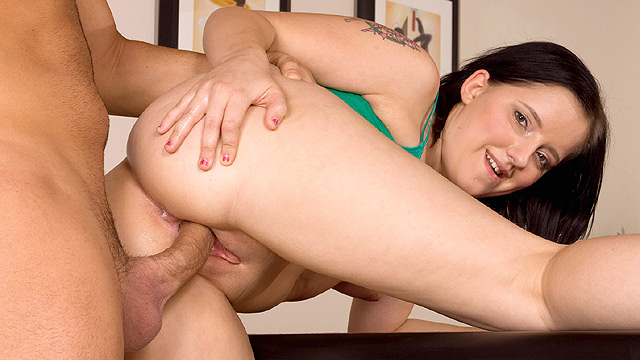 Mischa isn't the first girl to have uttered, "Just because I like to fuck doesn't mean I'm a whore." And just like those before her, we'll give her the benefit of the doubt. Just because she likes to suck cock and flick the head with her tongue ring doesn't mean she's a whore, either. And just because she likes to get her tight pussy filled with cock doesn't make her a slut. She's just your average girl who likes a good fucking. Nothing wrong with that. Mischa bends over a pool tables and puts one leg up to open wide for the hot beef injection in her twat. She may not be a whore, but she fucks like one.
More Teens »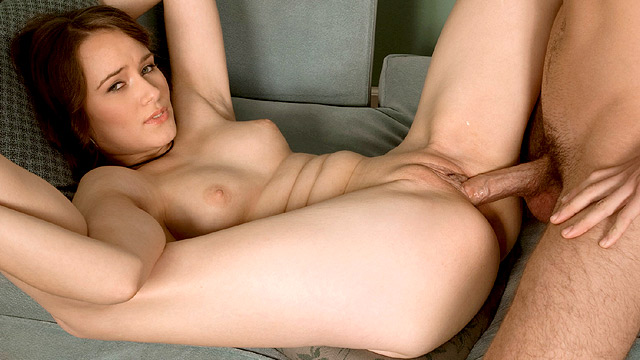 "Truancy officers are a joke. They're playthings more than figures of authority. This guy was just like all the rest. He picked me up and tried to take me back to school, but the second I hinted at fucking, he was singing a different tune. How do they even keep their jobs when they let girls like me get away with skipping just because we fuck them? I guess they must bring enough ugly girls back to school to meet their quota. Anyway, this guy was something else. Usually the truancy officer will wait 'til we get back to a house to start fooling around, but he let me suck his cock right there in the car. It was nice and big and juicy. I could tell it was going to feel good in my pussy. When we got back to his place I sucked him some more so he'd be nice and hard to fuck me. He gave it to me real good. While I was lying there on the couch with my legs open, getting my pussy pounded, I thought to myself, 'It's times like this that remind me why I skip in the first place.'"
More Teens »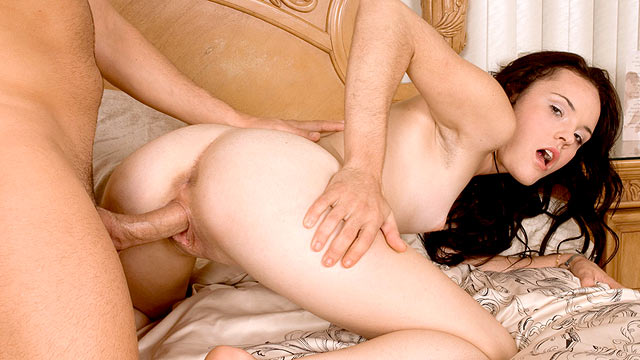 "My ex-boyfriend used to tell me that I drove like a blow job: slow and sloppy. Ever since then I don't do much driving, but I needed a ride to this party in Miami. I didn't have any way to get there so I decided to hitchhike and see what happens. A couple of guys who were going on a road trip picked me up and offered to give me a lift. One of them was really cute, and I wanted to fuck him really bad. But I couldn't just completely throw myself at him, so I told him I'd repay him for the ride. They had to make a pit stop and I was already giving him road head by the time we got there. It's times like that I'm really glad I don't drive. I just stick to what I'm good at. And that's sucking cock and fucking."
More Teens »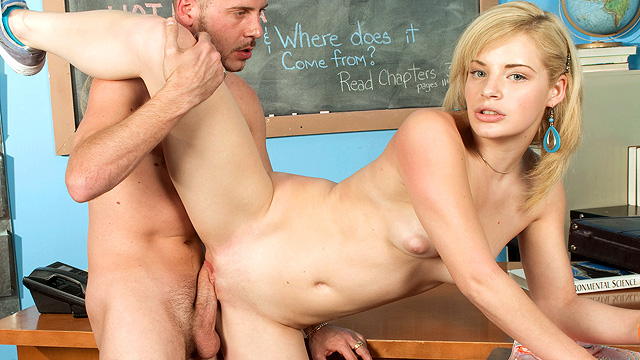 "I can't believe this guy broke up with me by leaving a note in my locker...and for not sucking his dick! He didn't even give me a chance to; it would've eventually happened. Oh well, his loss, 'cause I ended up sucking my teacher's cock anyway! He was really good at giving me directions, too. It tasted so good I just wanted to swallow it whole. I couldn't help but smack my lips 'cause of how good it was. My teacher wanted to show me more things, like how to take his dick in my pussy. He taught me some positions and they all felt so good!"
More Teens »