Popular Hitchhiker Videos (Page 3)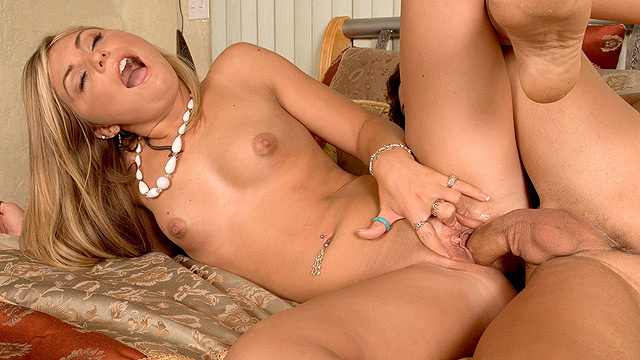 Despite her California surfer-girl drawl, Monika isn't a total bimbo. What she is, is a slut. (There's a difference!) Two cruisers spot the little-titted blonde while she's getting the mail and they praise the lucky day. The guys engage her in conversation but her practical side leaves her weary of them at first. But the horny girl inside gets the better of her and she invites them in so they can "get to know each other." For Monika, that means exchanging a few sentences before they get to exchange bodily fluids. A quick massage turns her on and in a minute she's spitting all over a cock and bobbing her head up and down and all around it. Then she gets on top and slowly inches her pussy down over that rod. Once the pumping begins the juice starts oozing out of her slit and soon she's getting slammed in doggie-style position. A few more rounds of pussy knocking and she gets a generous load on the chin. That's a sweet little surfer girl.
More Teens »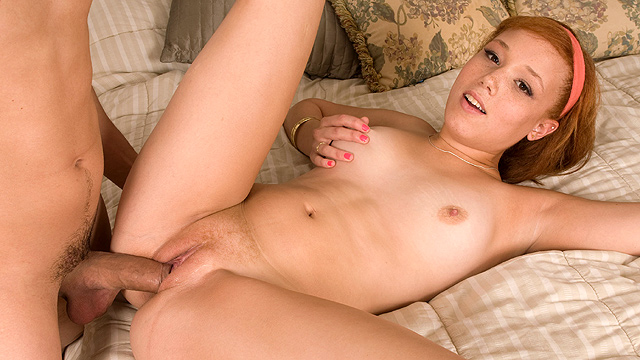 "I was on my way to go study when I met this guy in the elevator. He noticed my books and asked me if I could help him study. I told him I could teach him a thing or two. So we go back to his place, right. I was thinking, 'fuck the books, I wanna suck his dick!' I mean, did this guy really want to study? I didn't want to be too forward but it looked like I was going to have to make a move. Good thing I wasn't wearing any panties! I sat with my legs open so he could get a good look at my bare pussy. Everything just fell into place after that. He started sucking my tits and stroking my pussy, and I sucked his cock. It was so big I didn't know if it would fit in my cunt. But it did, and it felt really good."
More Teens »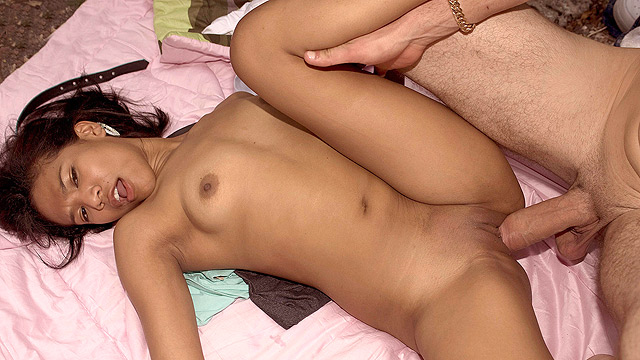 Nothing is free in this world, but lost little Emy Diaz doesn't need to carry cash with her. She's got her own special payment method, and it's better than a credit card. That's because Emy's wet mouth and tight pussy are accepted everywhere and all you have to do is swipe them with your cock and the transaction is complete. Fortunately Emy brings her mouth and pussy everywhere she goes, and showing her gratitude for a ride home is as easy as unbuttoning her driver's pants. She gives him a sloppy, lip-smacking, throat-tickling blow job and takes him inside to screw his brains out. Whether on top or bottom, Emy loves to get drilled hard. She squeals and moans like the Latina slut she is and begs him on to fuck her harder. And like anyone who receives excellent service, Emy tips her ride by letting him cum all over face.
More Teens »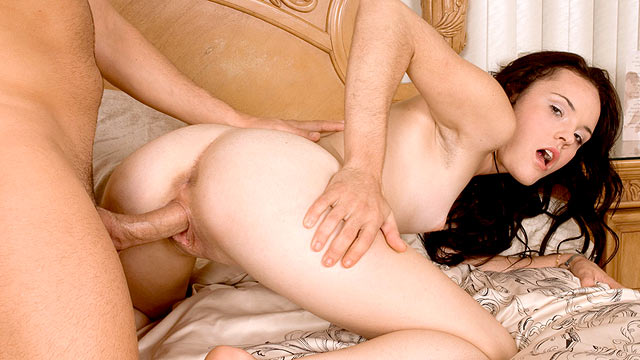 "My ex-boyfriend used to tell me that I drove like a blow job: slow and sloppy. Ever since then I don't do much driving, but I needed a ride to this party in Miami. I didn't have any way to get there so I decided to hitchhike and see what happens. A couple of guys who were going on a road trip picked me up and offered to give me a lift. One of them was really cute, and I wanted to fuck him really bad. But I couldn't just completely throw myself at him, so I told him I'd repay him for the ride. They had to make a pit stop and I was already giving him road head by the time we got there. It's times like that I'm really glad I don't drive. I just stick to what I'm good at. And that's sucking cock and fucking."
More Teens »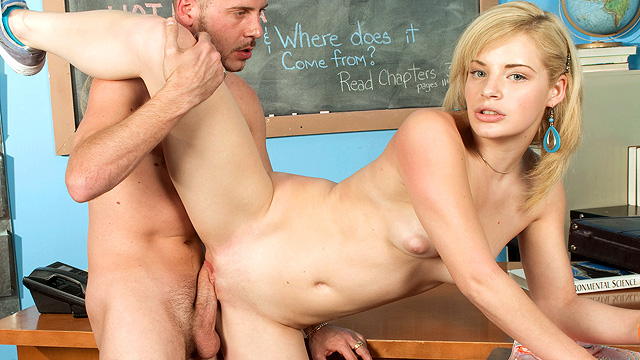 "I can't believe this guy broke up with me by leaving a note in my locker...and for not sucking his dick! He didn't even give me a chance to; it would've eventually happened. Oh well, his loss, 'cause I ended up sucking my teacher's cock anyway! He was really good at giving me directions, too. It tasted so good I just wanted to swallow it whole. I couldn't help but smack my lips 'cause of how good it was. My teacher wanted to show me more things, like how to take his dick in my pussy. He taught me some positions and they all felt so good!"
More Teens »