Location:
Flint, Michigan
Occupation:
Clothing store clerk
Monika Dupree's Photos and Videos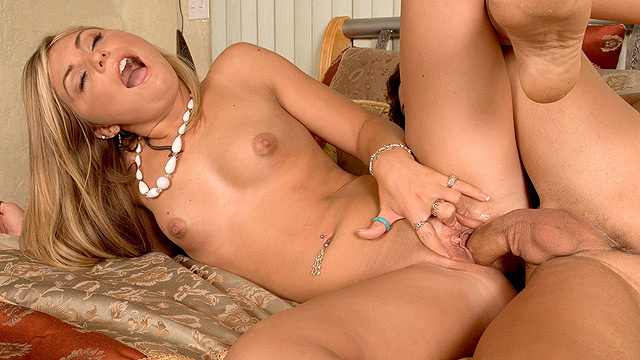 Despite her California surfer-girl drawl, Monika isn't a total bimbo. What she is, is a slut. (There's a difference!) Two cruisers spot the little-titted blonde while she's getting the mail and they praise the lucky day. The guys engage her in conversation but her practical side leaves her weary of them at first. But the horny girl inside gets the better of her and she invites them in so they can "get to know each other." For Monika, that means exchanging a few sentences before they get to exchange bodily fluids. A quick massage turns her on and in a minute she's spitting all over a cock and bobbing her head up and down and all around it. Then she gets on top and slowly inches her pussy down over that rod. Once the pumping begins the juice starts oozing out of her slit and soon she's getting slammed in doggie-style position. A few more rounds of pussy knocking and she gets a generous load on the chin. That's a sweet little surfer girl.
More Teens »
Monika Dupree on Other Sites