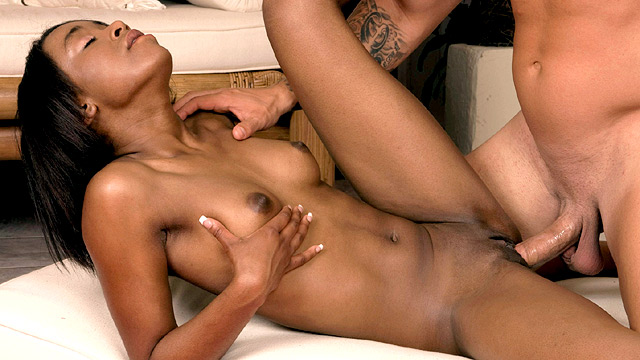 You think you're picking Rio up, but she's actually picking you up. She's like a spider waiting for an innocent fly to get tangled in her web so she can suck all the juice out of it. Congratulations, you're the lucky fly. "I just take cock when I want it," she said. Rio's wanted for perpetrating sex crimes, but the only thing we think should be illegal is how horny she is. Guys just don't stand a chance when she's on the loose.
More Teens »
You don't leave a girl like Cece standing around waiting. There are plenty of guys out there who are more than willing to give her a ride. When her boyfriend leaves her standing on a corner, she doesn't hesitate to hang out with another guy. If she can't use her suck-and-fuck skills on her boyfriend, she's going to use them on someone else. First, she vacuums a cock to get it nice and hard for her pussy. Then she gets on top and rides that pole till it hits her G-spot. Cece still wants more and gets fucked hard doggie-style and even takes a finger in her butt. She's not satisfied till she gets a load sprayed all over her face. And that's why you never leave a pretty girl waiting around.
More Teens »
How often do you see a hot girl walking down the street and get the urge to pull over and offer her a ride? Probably at least once a day, but the most you do is honk and keep driving while pawing at the chubby in your pants. Well Tori, Victoria and Vianey think it's time you start acting on your urges and offer sexy foot soldiers a ride home. Girls can be very appreciative of favors, and this trio certainly is. Vianey is a pussy-hungry Latina, Tori is a cock-sucking fiend and busty Victoria just straight up loves to fuck. Together, they make one hell of a team. When they start undressing and eating each other out it's like a fantasy come true! It's a sinful buffet of flesh with more than enough servings of cock-stuffed pussies and tongue-to-clit action.
More Teens »
Haileey and Angelica are firm believers in the buddy system. They go to the bathroom together, they go to the mall together and they hitchhike together. But best of all, they even fuck together. These bisexual cuties enjoy eating each other out as much as they do sucking cock. So when they team up to fuck some guy who gives them a ride, they all get double the pleasure. One girl blows the guy while the other sucks his balls. Then they take turns fucking him while licking the other girl's tits and pussy. Haileey spreads her legs for a cock while Angelica spreads her pussy for Haileey's tongue. The girls go from suckin' to fuckin' to suckin' and fuckin' over and over again. Obviously, these rough riders are down for anything. "This guy was nice enough to give us a ride, so we wanted to repay him with another kind of ride," said Angelica.
More Teens »